Wholesale and retail trade.
Electricity, instalation and electrical equipment (lights, sidelights,
light bulbs, fixtures, el. plugs, switches,extenders, cable, gofra etc.)
-Door fittings (door handles, locks, hinges, etc.)
- Stainless steel kitchen sink
Address: Latvia, Rumbula, Maskavas 497, LV-2121
Working hours: Mon-Fri: 9: 00-17: 00; Sat-Sun: closed
e-mail: konstantatvis@inbox.lv
t. + 371 67205159; Fax: + 371 67357904;
www.konstantatvis.lv, www.makel.lv

"Konstanta TVIS" company was established in year 1998 and started its activity with a goal to create electro-products and door fittings wholesale on Latvian market.
Currently our company's activity is wholesale and retailing:
Electro materials, installation and electro-technical equipment (lamps, illuminators, bulbs, lighting fixtures, electrical sockets, switchers, extension cords(group sockets), cable tubes, electrically set tubes etc.
Door fitting (door handles, locks, mechanisms, hooks and other.)
Stainless kitchen sinks
Aluminum ladders
"Konstanta TVIS" delivers its goods from various European countries, as well as from Turkey and China.
There are factories with modern technology in Turkey and China. Produced goods have a great demand on the inside market, as well as outside it in Europe.
One of the first elect-material producers our country began to represent was MAKEL ELECTRIC

Right now MAKEL ELECTRIC is producing about 2500 various goods.
Sockets, switchers, circuit breakers, plugs, group sockets etc. Those are the goods currently produced on MAKEL factories.
Baring in mind demand and supply of our consumers, conducting a science-investigating research, personally designing its products, paying attention to effectiveness of production and labor productivity, MAKEL worthily took its place as one of biggest electro-material producers.
Starting for year 1999 "Konstanta TVIS" is an official representative of MAKEL trademark in Latvia.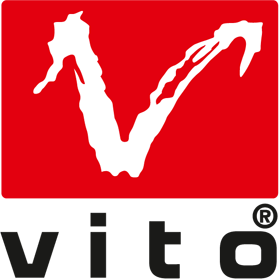 From 2004 "Konstanta TVIS"-VITO company distributor.
"VITO"- modern enterprise, located in China and procuces electrical lighting of wide range:
Saving, daylight, halogen and hydrargyrum bulbs;
Lighting fixtures (IP-65 as well);
Table lamps;
Motion sensors, el. bells, ceramic holders, projectors etc.
"Konstanta TVIS' also represents well-known brands ABL-SURSUM, MAKEL,VITO, ETI, SIBA, MUTLUSAN, BRILLIGHT, ABB, DONAU, METARSAN,KOPOS, LIETKABELIS, NARA, MINBUD and others on Latvian, Lithuanian, Estonian and Russian markets.
Our aim is to deliver the order in the shortest time span and for lowest possible prices, which satisfy various types of wholesale customers from private entrepreneurs to corporation clients. For regular customers we are ready to give significant discounts on all of our production.
Year 2001
Aiming to increase the quality of our customer service, Konstanta TVIS develops bar code system on all our products, which significantly increases labor productivity and decreases time spent on ordering.
Year 2002
The company introduces new electronic-CD catalogue of its products.
Year 2004
It's now possible to order from our webpage www.konstantatvis.lv or www.makel.lv.
Konstanta TVIS is a constant exhibition participant.
Year 2009
Finished building our new office-storage complex with area more than 4000m2.
New address is: Kekava town, 497 Maskavas Street, Rumbula, LV-2121
This led to increased storage ability and enlarged good assortment.
Year 2009
Konstanta TVIS became a well-known ETI brand representative.
ETI-are qualitative electro-technical production from Slovenia, e.g. Automatic circuit breakers, differential relay EFI, KZS, switches, fusible links and more.
Year 2010

ABL-SURSUM-German company, producing modular devices, breakers, power plugs, sockets for kitchen cutlery.
Year 2011
New webpage design on www.konstantatvis.lv and www.makel.lv alows faster and more precisly order through the internet, as well as managing personal orders.
Year 2012
We created the project department, which discovered new suppliers such as FABER KABEL, NKT CABLES, KOPOS KOLIN, EVOPIPES, ENSTO, HAGER and others. Turnover has increased as well as the number of new customers. Range of goods continue expanding pleasing various individual preferences of our different client-shops and installation companies.
Our suppliers – worlds most famous brandnames